Feature Articles @Lift Up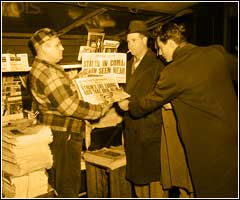 Muscletown
Time Magazine, Monday, Jun. 19, 1944
A weight-lifting team from York, Pa. (pop. 70,000) wound up its 1944 season last week with five out of six sectional titles, eight out of 14 national titles, and four new national records. Overwhelming as it was, the coup surprised no Yorkers. It was just one more proof of York's claim that its men are the most muscular in the U.S.
Weight-lifting contests usually involve lifting a bar bell overhead by three methods: the two-hand snatch, the two-hand clean and jerk, the two-hand military press.* Atlas' share of this year's honors went to York's Emerick Ishikawa, a 23-year-old Japanese-American in the 123-lb. class. At the A.A.U. championships in Chattanooga, Tenn. he added 19¼ Ib. to the snatch record by lifting 193 Ib. He cleaned and jerked a record 220 Ib.
Tony Terlazzo, 34, who cleaned and jerked more than twice his own weight of 148 Ib. for the best single performance, already held all national records in his class. So did 33-year-old John Terpak, who set a new record in the military press for 165-pounders. Most popular performer in the show was Steve Stanko who won the title of "Mr. America." With other veterans, these Yorkers have made championships a York habit.
Business & Pleasure. Big muscles are not one of York's natural resources. Credit for importing and developing them belongs to a balding but dynamic citizen named Robert Hoffman, whose prime motive is simply to advertise his business. He claims to be the world's biggest manufacturer of bar bells.
Bob Hoffman started his career with little more than a manly torso and a desire to make it manlier. He bought his first set of bar bells in 1923, was so pleased that he soon bought out the manufacturer with his earnings in an oil-furnace business. Since then he has devoted himself to making the world muscle-minded, usually at a profit, sometimes at a considerable loss.
Hoffman organized the first of his weight-lifting teams in 1929. They have held national titles since 1932, world titles since 1937. A trainer of U.S. Olympic teams, this muscle missionary has financed some overseas competitions on his own. One year he spent $6,000 to send a team to Europe.
Hoffman has also spread his gospel through printed matter (The Big Chest Book; How to Be Strong, Healthy and Happy; Big Arms, etc.). His chestiest publishing venture is the monthly Strength and Health, which claims a circulation of 110,000 and more than a million readers in all parts of the world. The magazine loses about $2,000 a month, a misfortune which Hoffman ascribes to the fact that it spurns all cigaret, liquor and breakfast-food advertising.
Mainstay of Bob Hoffman's interests is the York Bar Bell Co., which still turns out an average of 10,000 bar bells a year, despite restrictive priorities. For past, present and future champions its three foundries provide jobs which do not affect their amateur standing. Clean-jerker Ter-lazzo, for example, is office secretary, Presser Terpak is general manager, and Snatcher Ishikawa earns brawn with his bread by lifting boxes in the shipping department. "Mr. America" is a machinist.
*In the "snatch," the weight is lifted overhead from the floor in one rapid motion. In the "clean and jerk," it is held momentarily at chest level before it is thrust quickly upward. The "press" is a slow, even lift from floor to chest, then overhead.
Back to Feature Articles