Feature Articles @Lift Up
1980 Olympics: David Rigert and Vasily Alexeev
by Arkady Vorobyev, Russia
Translation by Arthur Chidlovski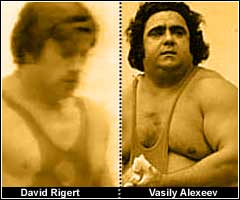 Rigert and Alexeev... The 1980 Olympics tournament is over and we all have the same questions:
- Why? What happened? How could it happen?
I'll try to share some of my thoughts.
First about Rigert
First, about Rigert. As we all know, he was having a victorious run in the 100KG class for a long time and, at the Olympics, he all of a sudden got back to his youth and went back to the 90KG class. Why?
I think the main reason for this weightclass twist was the strength of the 20-year-old Bulgarian athlete Rumen Alexandrov. Our Gennady Bessonov lost to him at the European Championship. It was expected that he will add even more by the time of the Olympics. What should we do? If even the world champion is losing here, who should cover this weight class for the team? We looked around, compared this and that and remembered about Rigert. He can do everything! For example, at the 1978 World Championship, he competed in the 100KG class and lifted 390 KG in total. At the 1978 European Championship, he reached 397.5 KG total in the 90KG class. Both times he won the gold medal.
Overall, when the objective selection process is not in place, there are these uneducated decisions by administrators and coaches.
Now, about the weight loss. In any case, it's a risky adventure - especially, when the gap between weightclasses is 10 kilos. In the last days before the competition, athlete doesn't eat much and loses body water as some traveller lost in the Sahara desert does without a clue where the nearest well is. Add to this Russian or Finnish steam bath when, after getting out of the hot steam, water and heaven seem to be the same thing. But you can't drink water.
Not to go into details, I have to tell you that after weight loss athletes often become almost sick. They are being tortured by terrible thirst, insomnia, their voices become hoarse and they occur to be aggravated without any reason. The lifters feel weakness and apathy. Therefore, we are usually against forcing big weight loss and go with it only in extreme situations.
But, if it was decided to go through this, the coaches shouldn't rely on the prior athlete's results and shouldn't close their eyes on reality and project results shown in one weight class to the results shown in the other one. They should realize that while losing weight, the athlete is losing strength, his fighting spirit, confidence in himself. They should be really careful tactically and help their athlete with medical and biological tools to keep athlete's best qualities up.
In the first attempt, David almost snatched it. But then all of a sudden it turned him and without necessary strength he let the bar go down. With different variations, it happened in the last two attempts.
Afterwards, I asked David why didn't the weight go up, he said:
- I couldn't pull it right. My back hip muscles were tearing apart.
It is true that during the weight loss the water-salt balance is damaged, the thickness of blood goes up - that's why one feels muscle spasms and feels light pinching in the muscles. Those things appear to be known for a long time. We learned how to prevent them. For example, even a simple usage of one gramm of chloro natrium significantly reduces muscle spasms. For unknown reason, no prevention work was done in Rigert's case.
However, Rigert could have had a decent performance had they not played this venturesome tactical game. David had no reason to open with 170KG. Of course, it looked very effective. Everybody ended the snatch lifts and the leader was just starting up.
This effect works only when the athlete is in a good shape.
In that class, all went upside down. Everybody expected superb performance from Alexandrov and he lifted really below his potential. As for 170KG that Rigert opened his snatch with, only two athletes were able to snatch it that day. I will emphasize - they snatched exactly 170KG. Not more. What was the reason to stage all this show off. They should have played Rigert's game remaining cool and sober. In addition, no world or Olympic records were set in this weight class.
Who determines the opening weight? First of all, it the athlete and his coach. They are responsible for this decision. Exactly like this - both of them. Not just the coach.
Rigert is responsible for this failure too. I understand - going down a weight class, coaching recommendations... But he is not a robot. He is an experienced athlete. He should always have his own opinion, pre-calculate each attempt in micro details, be passionate about his result.
When the competition was over, Yury Vlasov, who watched Rigert's bomb-out, told me:
- I don't envy David! He went through so much... When I lost in Tokyo, I wasn't myself for a year. I had nightmares about that loss.
At first, I thought that Rigert was upset. I was mistaken. He was totally cool. It wasn't just for a public to see. It seemed that he couldn't even think that it was his fault too that day. It made me mad as much as his "zero" result.
What happened to Alexeev
What happened to Alexeev? Why did this giant fail this time? At a glance, Alexeev repeated what Rigert did - he couldn't snatch the opening weight (180KG) three times. This is the end of similarities between them.
Alexeev's troubles began almost two years prior to the 1980 Olympics. At the World Championship in Gettysburg, USA, he snatched 185KG and got an injury. He wasn't able to finish the competition. That was the first time in many years when the gold medal went abroad - to Jurgen Heuser, East Germany.
So what? That can happen to everybody! We all hoped that like many times before Alexeev would come back with new records or world-class results (the worst case scenario) and his powerful figure would be again in the line-up of strongmen.
Weeks passed. Months passed. Championship after championship passed. Alexeev disappeared. Before, he loved to compete. He didn't miss a single chance to show his exclusive superiority. And suddenly he began to ignore the tournaments. It looked like after Gettisburg he didn't train for the whole year.
He was expected to compete at the USSR Spartakiada. It was set as a general rehearsal for the Olympics but Alexeed skipped it.
To be honest, at 38, with a long list of victories, it might be a good time to retire form active lifting but it wasn't in Alexeev's plans. That meant he should have done intensive training, compete and get ready for a tough competition.
How much will Alexeev lift? There were few weeks left before the Olympics after two-year long absense. Nobody could answer this question. Neither members of federation, no coaching committee knew the answer. Prilepin (TEAM USSR head Coach) said that Alexeev is training very actively but when asked about his results in snatch and cj, Prilepin had nothing to reply with. The wall of secrecy surrounded our strongman. There were plenty of rumors though. Some said that the giant is going to open the new page in the history of iron game with his lifts. However, no sources of this predictions ever opened the door to Alexeev's gym. The ones who actually got there couldn't say anything optimistic.
The Olympic tournament was coming fast and with a lot of noise around it. In the preliminary list of athletes, Alexeev was shown with the following information: born on 01/07/42, height 192 cm, weight 149 kg (he actually weighed in 161.75 kg - the heaviest participant). Best results: 190KG snatch, 256KG cj and 445KG total. However, his qualification result as of 03/09/80 was 375KG which meant that, among 15 super heavyweights, he was on the fourth place from the bottom of the table.
As I wrote before, there should be an effective selection system in place to be followed by everybody. In Alexeev's case, there is no reason to blame the selection system because he didn't compete at all. It was a paradox of Alexeev - being in sports, he managed to be ouside the sports rules and championships. And everybody around seemed to be OK with it.
In some way, Alexeev's case was predisposed. Had he known that without a solid proof of his strength he wasn't allowed to be selected, he would have been forced to take care of his shape and to build it up through competitions.
However, Alexeev knew a different thing - he was above rules. Something that was not allowed to the others was allowed to him. When time comes, he will bypass the selection and show up on the platform.
He was right here. He did show up on the platform but...
I still think he could have given a battle for his third Olympic gold medal, had he had a coach. Not just a coach but a friend. An ally. A commander.
He ran out of luck here. He had no coach. When your strength is shaky, one needs a helper and supporter. When Alexeev was strong, he managed perfectly without a coach. Nothing is eternal in this world. When it was time for the new Olympic challenge, there was no person to wake Alexeev up after a long sleep.
Alexeev was empty before the Olympics. With a week left, a special general rehearsal was set up just for Vasily in Izmailovo Weightlifting Hall. There were many attendees - about 500-600 people in the audience. Everybody was impatient and waited for a miracle. I know there are no miracles but I still waited for it too.
Alexeev snatched 170 KG. It was a slack lift. There were no Alexeev's elegance and energy in it. The impression was that the athlete is either ill or it's not him.
In the cj, things got better. Vasily conquered 230KG. It looked to me that he had a solid extra potential in it.
That was it. The rumor was that Vasily would wake up any moment now. It was all from the sci-fi field. The 400KG total clearly showed that Alexeev was poorly prepared.
I don't want the readers to think that I am smart now when it's over. Right on that day in Izmailovo, I told the members of federation:
- We can't let an athlete that was absent for two years to compete at such important event as Olympics. There are no miracles!
But the decision on Alexeev's participation has already been made.
That is the story of how without any reason for it Alexeev got to compete at the Olympics.
When the giant touched the bar, I still expected that there will be a miracle. Despite my dry rationalism, I dreamed about the repeat of the Montreal triumph in Moscow.
Alexeev wasn't able to snatch the 180KG. The first attempt was limited to a short convulsive move. The bar went up to such a low height that even a quick "flyweight" would have not been able to go under it. Second attempt. Nothing.
I ran to see Alexeev behind the stage.
- Vasya! You don't pull it at all. Get focused. Pull it to a power snatch position.
- I pull it, I think... - His reply sounded somehow sad. - I think I pull it well.
For the third attempt, Alexeev was getting ready slow and with anger. While the platforms and the weight were being prepared for the lift, Alexeev tried to convince himself. To be or not to be.
He had a strong pull but the energy of lift instead of being accelerated began to fade... like a candle under the wind. That was the end of it.
Why is my story about failure so long? Because it wasn't accidental but something to be expected. Looking into the past, we should think about the future.
---
Back to Feature Articles