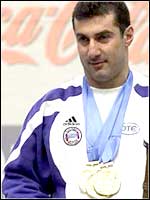 Akakide Kakhiachvilis (b. 1969) is one of the most successful weightlifters in the history of this sport. He won three Olympic gold medals: in Barcelona in 1992, in Atlanta in 1996 and in Sydney in 2000.
Kakhiashvilis was born in Georgia, one of the Soviet republics at that time. He competed as Kakhi Kakhiashvili for the Unified Team of former Soviet republics in 1992 when he won his first gold medal at the Olympics in Barcelona. When he represented Greece at the Olympics in 1996 and 2000, his name was transliterated as Akakide Kakhiashvilis.
After winning his second gold medal in Atlanta, he said : "The first of my golds I won for Georgia, where I was born and lived for 23 years, But I also wanted to win one for Greece, the country I love and where I and my parents now live." Besides winning at the Olympics, he won gold medals at the world championships in 1995, 1998 and 1999.