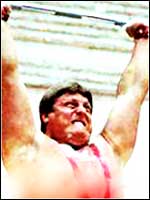 Leonid Taranenko (b. 1956) is the athlete who lifted the heaviest weight of the 20th century. It happened in Canberra, Australia in 1988 and his clean and jerk of 266 kg set up a record challenge for decades to follow.
Graduate of Belorussian school of weightlifting, Taranenko lifted weights on the intenational level until he turned 40. During his career, he represented both the Soviet and, after the collapse of the Soviet Union, Belorussian national teams. Taranenko became a candidate to the Soviet national team as early as in 1975. However, his major breaktrhough took place at the 1980 Olympics when he won the gold in the 110 kilogram weight class. Four year later, he was ready for compete for his second Olympic gold. However, with the boycott of the 1984 Olympics in Los Angeles by the Soviet Union, Taranenko was robbed of a well deserved title. As an alternative to the Olympics, the Soviets took part in the 1984 Friendship International Tournament. Taranenko won in the 110 kg class with the world record in total of 442.5 kg or 52.5 kg more than Norberto Oberburger, the gold medalist in Los Angeles.
Shortly after this, Taranenko moved on to the Super Heavy weight class. This step was rather risky since he was rather not tall enough for the new weight class. In addition, the Soviet squad had a long list of ambitious young world class super heavyweights competing to become the "world's strongest man", the title that generally became vacant after Vasily Alexeev's retirement.
In 1992, at 36, Taranenko won the silver Olympic medal representing his native Belarus in Barcelona. At 40, Taranenko won the title of the European champion and even tried to compete at his third Olympics in Atlanta. He managed to win the title of the 1996 European champion that year. But the long history of injuries and, of course, the age prevented him from succeding in this last quest of his weightlifting career.