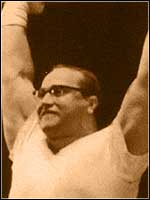 Yury Vlasov (b. 1935) was the "world's strongest man" from the late 1950's to mid 1960's. He was a member of the Soviet national weightlifting team from 1957 to 1967, won world championship in the heavyweight division four times (1959, 1961, 1962 and 1963) and six times European champion (1959, 1960, 1961, 1962, 1963 and 1964). He was the first Soviet super heavyweight lifter to win a gold medal in Rome in 1960 when he stunned the crowd with his phenomenal win over American athletes, Norbert Schemansky and James Bradford.
In 1964 in Tokyo, he lost his title to his teammate Leonid Zhabotinsky who came from behind after lulling Vlasov into a false sense of security by going up to him and conceding defeat. This battle between two super heavyweight giants can be considered one of the most memorable moments in the history of Olympics. When Vlasov realized that he had been the victim of a dishonest trick, he was furious.
"I was choked with tears," he later wrote. "I flung the silver medal through the window... I had always revered the purity, the impartiality of contests of strength. That night, I understood that there is a kind of strength that has nothing to do with justice."
After his retirement from Olympic weightlifting, Vlasov turned to a professional writing and journalism. In post-Soviet times, he became a successful politician, was elected to the State Duma in Russia and ran for the presidency that he lost to Boris Yeltsin in 1996.