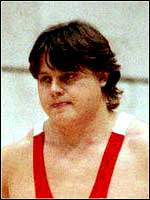 Yury Zakharevich (b. 1963) was one of the most talented and promising Russian athletes in the 1980's. However, in 1983, when he was only twenty, Zakharevich disclocated his left elbow while attempting to snatch a world record. Doctors rebuilt his elbow using synthetic tendons. He returned to competition in 1984 and won next four European championships as well as the world championships in 1985-1988. In 1988 in Seoul, Zakharevich won a gold medal at the Olympics in a heavyweight division with world records in all types of lifts and in the total.
Although he showed world class results in both the snatch and the clean-and-jerk, his strongest lift was always the snatch. Zakharevich's results in snatch were sometimes even higher than the ones by the super heavyweight lifters in the unlimited weight class.
His sportsmanship, outstanding strength and technique, unprecedented will to compete and dedication to the sport of weightlifting inspired the upcoming generations of weightlifters.