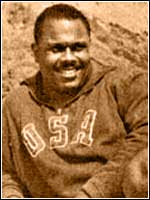 John Davis (1921-1984) was a true legend of Olympic weightlifting. His fabulous lifting career lasted almost two decades. At 17, Davis won the 1938 World Championship and from then until 1953 he remained unbeaten in national and international weightlifting competitions. Davis won two Olympic gold medals, six world championships and twelve national championships. His medal count could have been even more impressive if the prime of his career hadn't taken place during the World War II when all major international competitions were cancelled.
On the national arena, Davis competed for the legendary York Barbell Club in York, PA, USA but trained on his own in New York City. On the international level, Davis represented the United States at two Olympics and he was never surpassed by anyone in any of the lifts of the weightlifting program. He won Olympic gold medals in 1948 and 1952. After a thigh injury, Davis lost for the first time at the 1953 World Championships and retired soon afterward.
In terms of his personality, Davis was always calm and cool on the lifting platform. He was famous for his workmanlike attitude during the training. Off the platform, Davis preferred not to be in the spotlight. He had a great opera voice and, by many accounts, could have launched a successful career as a concert artist.
John Davis died on July 13, 1984 from cancer in New Mexico, USA.